Welcome Home
Bellevue, Pennsylvania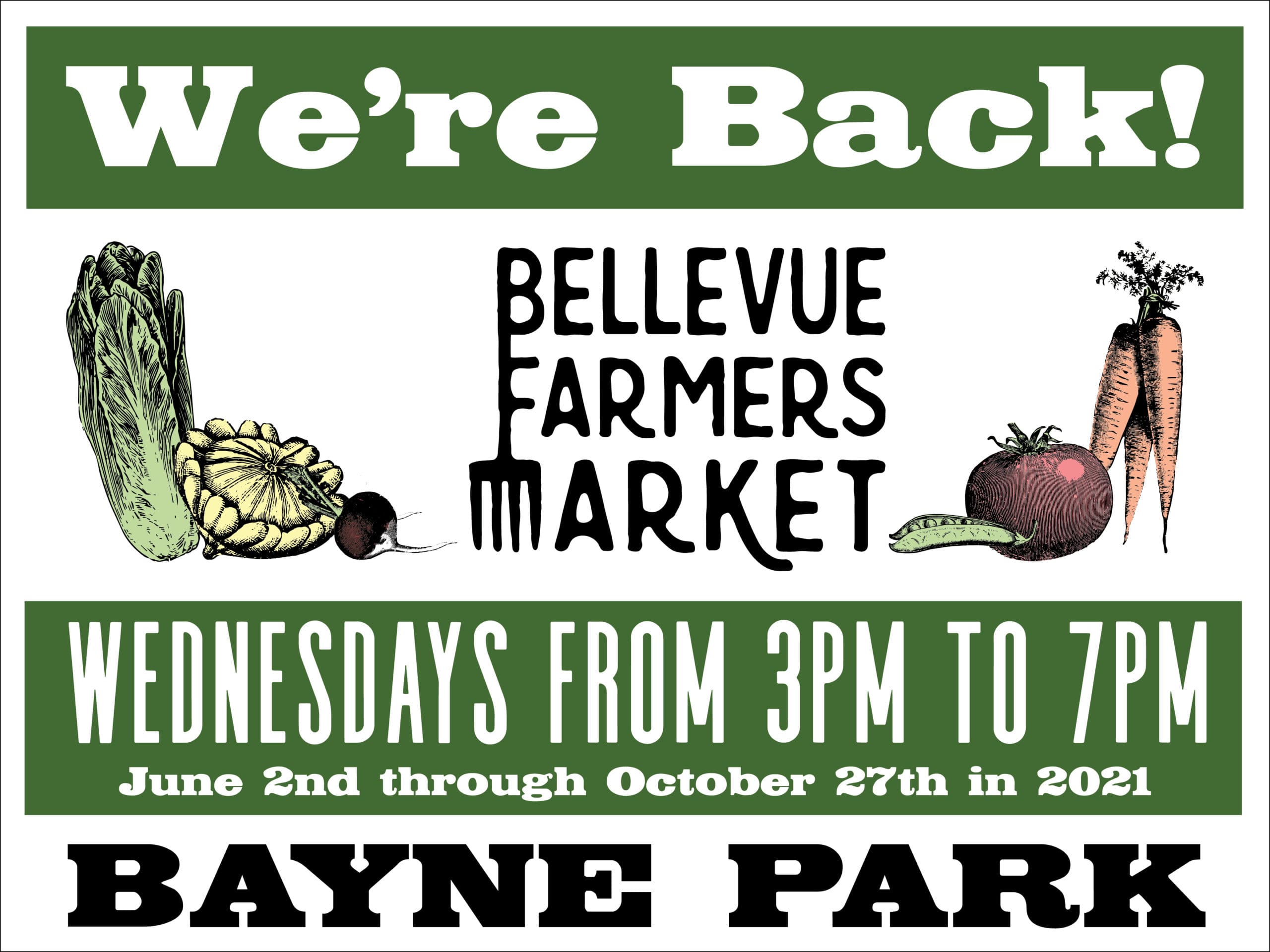 Celebrate our return to Bayne Park (and support our work) with a yard sign!
We're excited to celebrate our return to Bayne Park for the 2021 market season, but we need your help! Purchase the 2021 edition of the Bellevue Farmers Market yard sign and help us get the word out about our new (old!) location while helping to support the work we do in the community.
Welcome to Bellevue!
Our charming community is home to authentic people in welcoming neighborhoods. Bellevue boasts urban vibrancy but with pride in its nostalgic history. Enjoy small-town comforts, convenient day-to-day amenities, and diverse places of worship. It is a caring community with a unique personality.
On behalf of our group of engaged citizens invested in the growth, diversity, and beauty to our borough, we invite you to live, worship, and shop in Bona Fide Bellevue.
Growth
Bring new growth and revitalization to our bustling neighborhood.
Inspiration
Focus on the residential and business district through community driven inspiration.
Inclusivity
Building a safe and friendly community for people from all walks of life. 
Bellevue Farmers Market
The Bellevue Farmers Market is held throughout the summer every Wednesday, 3-7 p.m. Local vendors offer a variety of fresh fruits, vegetables, and foodstuffs as well as handcrafted items. There are activities for kids and adults. The Market is currently closed for the season. You can sign up for email alerts to get more Farmers Market information and updates on other Bona Fide Bellevue Programs. 
Improve the Vue
Improve the Vue is a Bona Fide Bellevue initiative that focuses on neighborhood upkeep and improvement. "Improve the Vue" events have include big projects such as installing a KABOOM playground at Bayne park and and helping clear new bike/hike trails at Bellevue Memorial Park, as well as smaller, regular projects for volunteers to improve the quality of Bellevue streets, parks, businesses, and homes. By giving local residents more opportunities to serve, we hope to create a contagious attitude of pride in our neighborhood. Sign up for email to get updates on upcoming Improve the Vue events.
What's Happening in Bellevue?
Add Your Event to our Calendar
Watch the Bellevue Feeding Neighbors Documentary on YouTube
read more
Building a Better Bellevue Since 2008
In 2008, a group of enthusiastic citizens met to envision how they could reinvigorate Bellevue and make it one of the most sought-after neighborhoods in Pittsburgh. Together, the community and Bona Fide Bellevue have experienced many successes over the past years. We look forward to even more in the bright future. We encourage you, our neighbor, to become involved in making our vision for Bellevue a reality.
Special Thanks to Our Sponsors
Have a question? Ask away!