Be a Part of Bona Fide Bellevue.
Dedicating time as a volunteer is a great way to connect to your community and make it a better place. Bona Fide Bellevue offers many opportunities for volunteering.
We are always looking for enthusiastic Bellevue-area residents to participate in our programs, events, and initiatives. We work together on projects that bring about positive change in our community.
If you think this is for you, sign up to learn more. Let us know your interests, and we'll be in touch to talk about how you can work side-by-side with others to achieve the same goal – building a better Bellevue! Any amount of time and effort is welcome.
Bona Fide Initiatives & Events
Improve The Vue
Improve the Vue focuses on community involvement in neighborhood upkeep and improvement.  In addition to the annual Improv the Vue initiative, the committee volunteers work on a periodic basis to improve the quality of Bellevue streets, parks, businesses, and homes.
Community Herb Garden
Since 2016 Bona Fide Bellevue has cultivated a public herb garden free to all to "pinch what you need, use what you pinch." As our garden space continues to expand, we're always looking for those willing to lend a green thumb. The gardens continue to be free and open to everyone. We welcome you to take what you need throughout the summer.
Points of Vue
The Point of VUE project uses the vacant storefronts along the business corridor to promote the positive in Bellevue and remind us that our Borough is rich in possibility.
"Live, Worship, Shop" House Tour
This annual fall tour showcases some of the many beautiful, architecturally interesting homes in our town. The Live Worship Shop House Tour is a big hit with visitors, averaging over 300 guests each year.
Main Street Initiative
The Main Street committee focuses on establishing and maintaining positive relationships with business and building owners in the business district and works to bring new and vibrant businesses to our borough. Our goal is to revitalize the borough through growth and improvement. 
Historic Home & Building Plaque Program
Bellevue is a borough flush with well over 1,000 turn of the century homes and buildings rich with character and charm. Have your property recognized with a historic designation plaque.
Live. Learn. Grow.
Live.Learn.Grow. has been bringing classes and presenters to Bellevue since 2017.  In addition to in-person presentations/programs, online video programs have been introduced that you can watch from home.
Bona Fide Bellevue Business Signage and Facade Grant Program
Bona Fide Bellevue has created a grant program to encourage downtown business owners and building owners to participate in energizing Bellevue's business district with new and well-designed business signage and lighting.
Bellevue Mural Arts Program
The Bellevue Mural Arts Program is a creative placemaking program that incorporates murals into the high-traffic streets of Bellevue.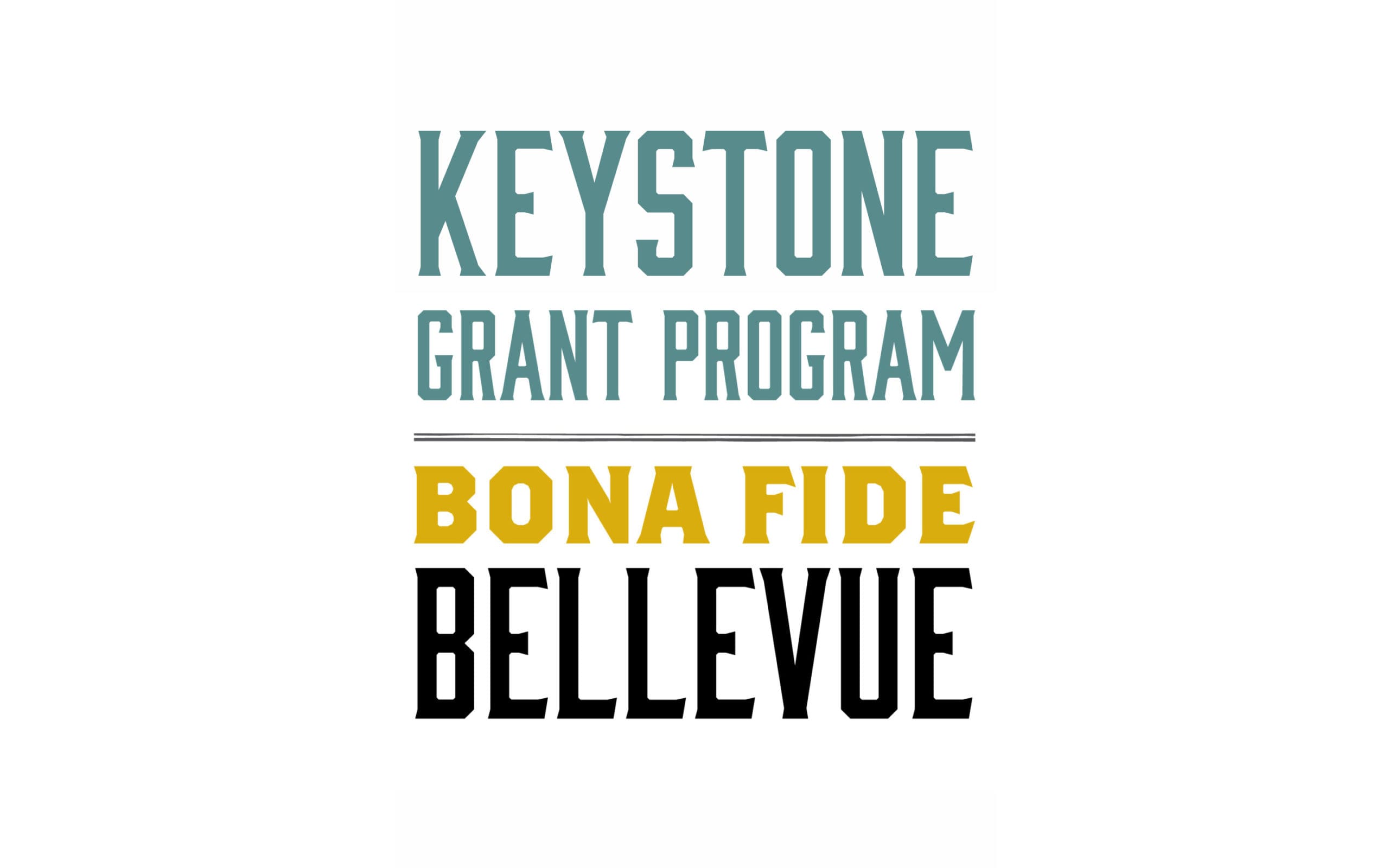 Bona Fide Historic Property Survey
The Keystone Historic Preservation Grant program has matched funds provided by Bona Fide Bellevue to complete an inventory and survey of all historic buildings and resources located in Bellevue borough. We hope this will engage neighbors in proactively designing the future of Bellevue's built landscape to benefit all residents while honoring the area's heritage.
Being able to volunteer my time to empower the people in Bellevue to improve their health, education, and overall well-being through the YMCA has been such a meaningful and memorable experience.
Share your Bellevue story!
Everyone that lives, works, plays, or learns in Bellevue has a special story to tell of how they became a part of our community. 
Please consider submitting your Bellevue story in selfie-shot video format.