Bellevue Farmers Market, a project of Bona Fide Bellevue, is a community nexus, bringing together food, families, and fun in a way that is accessible to all!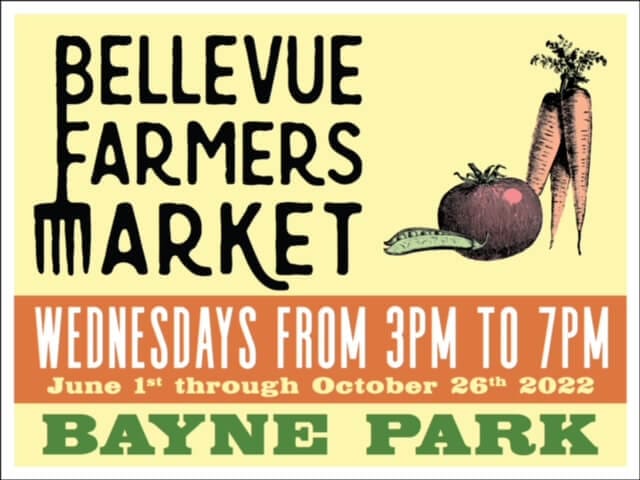 Celebrate the return of the Farmers Market to Bayne Park
We're excited to return to Bayne Park for the 2022 market season, but we need your help! Purchase the 2022 edition of the Bellevue Farmers Market yard sign and help us get the word out about our season (and support our work for the community!)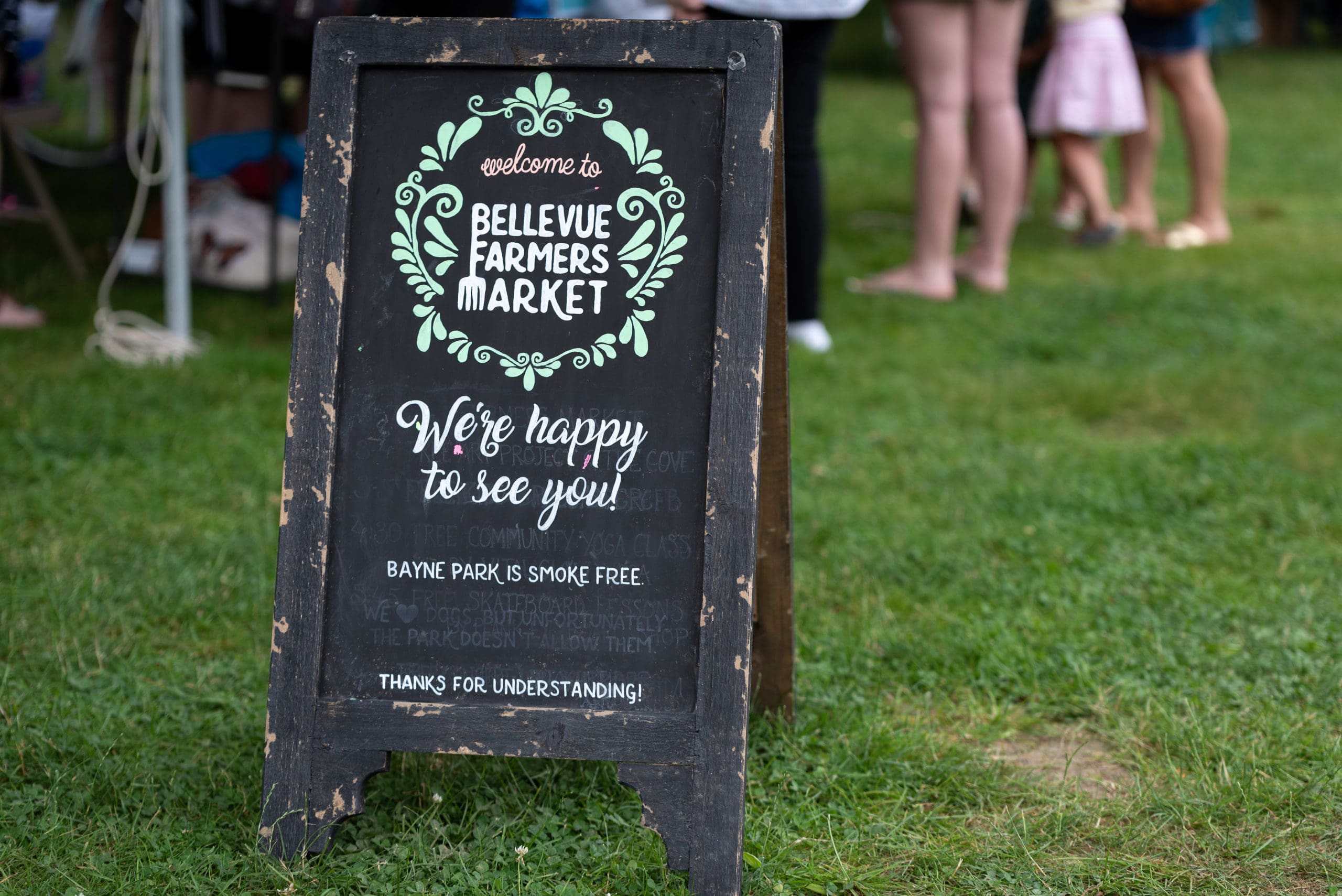 The Bellevue Farmers Market started in 2017 under the direction of a group of residents.  They realized a charming, walkable community like Bellevue, PA deserved to have a market that was as exciting and dynamic as the town itself.  The goal of the market is to create a central point for the community that is accessible to all.
Visiting the Market in 2022
LOCATION: We are returning to Bayne Park for the duration of the 2022 season!
HOURS: The Bellevue Farmers Market is each Wednesday from June 1st through October 26th from 3pm to 7pm.

No tobacco products are allowed at the market at any time.

We have multiple vendors that can accept SNAP/EBT – stop by the market booth for more details!
We offer a 1 for 1 Food Assistance Match. If you participate in a state or federal food assistance program, you the FAM will cover 50% of your qualifying food purchases. Click here for details, or stop by our Market Booth and speak with a volunteer to learn more! 
Congratulations to Lydia S, of Bellevue Elementary for winning our T-Shirt Deisgn Contest!
The Bellevue Farmers Market has enacted a Severe Weather Policy to protect our guests, volunteers, and vendors.
We are excited to multiply the buying power of in-need neighbors at our market by matching $1 for every $1 spent (subject to change as funds and opportunities allow).
Vendor & Volunteer Spotlight
Our final vendor spotlight of the 2021 season is on our parent organization, Bona Fide Bellevue. We spoke with Susan Stabnau, the organization's president.
Today's volunteer spotlight is on Sister Ily Olsen, of the Church of Jesus Christ of Latter Day Saints.
Are you interested in being a vendor at the Bellevue Farmers Market for the 2021 season? Please fill out the form below
While the market earns revenue through selling spaces at the market, earned revenue makes up less than 20% of our overall budget. Through generous contributions from our community, we are able to create a high-quality, professional experience for vendors and the community alike while supporting those who access food assistance programs. 
Your support of the Bellevue Farmers Market reaches beyond the weekly market. In addition to promoting healthy lifestyles through better food choices, your contribution supports local farmers and entrepreneurs, keeping them in business and creating more jobs in our communities.
Are you K-6 student in Northgate School District? Do you like to draw? We are holding a contest to design T-Shirts for the 2022 Bellevue Farmers Market.
The winner will receive: a celebration with their class (on a future date) and t-shirts for themselves and their family (to be picked up at the Market Booth).