Bellevue Farmers Market, a project of Bona Fide Bellevue, is a community nexus, bringing together food, families, and fun in a way that is accessible to all!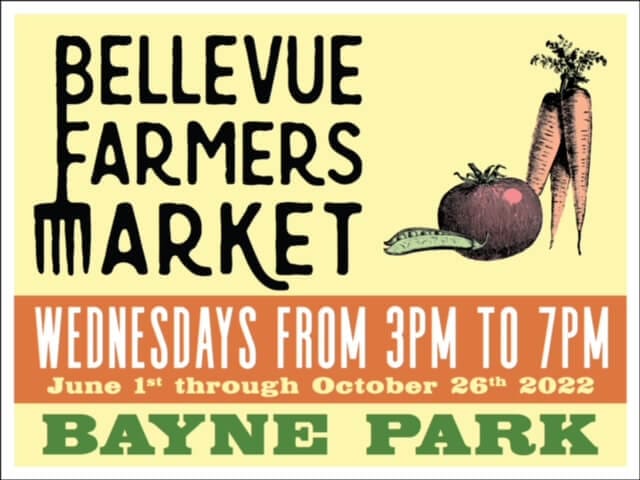 Celebrate the return of the Farmers Market to Bayne Park
We're excited to return to Bayne Park for the 2022 market season, but we need your help! Purchase the 2022 edition of the Bellevue Farmers Market yard sign and preorder your own BFM T-Shirt to support our organization and get the word out to the community!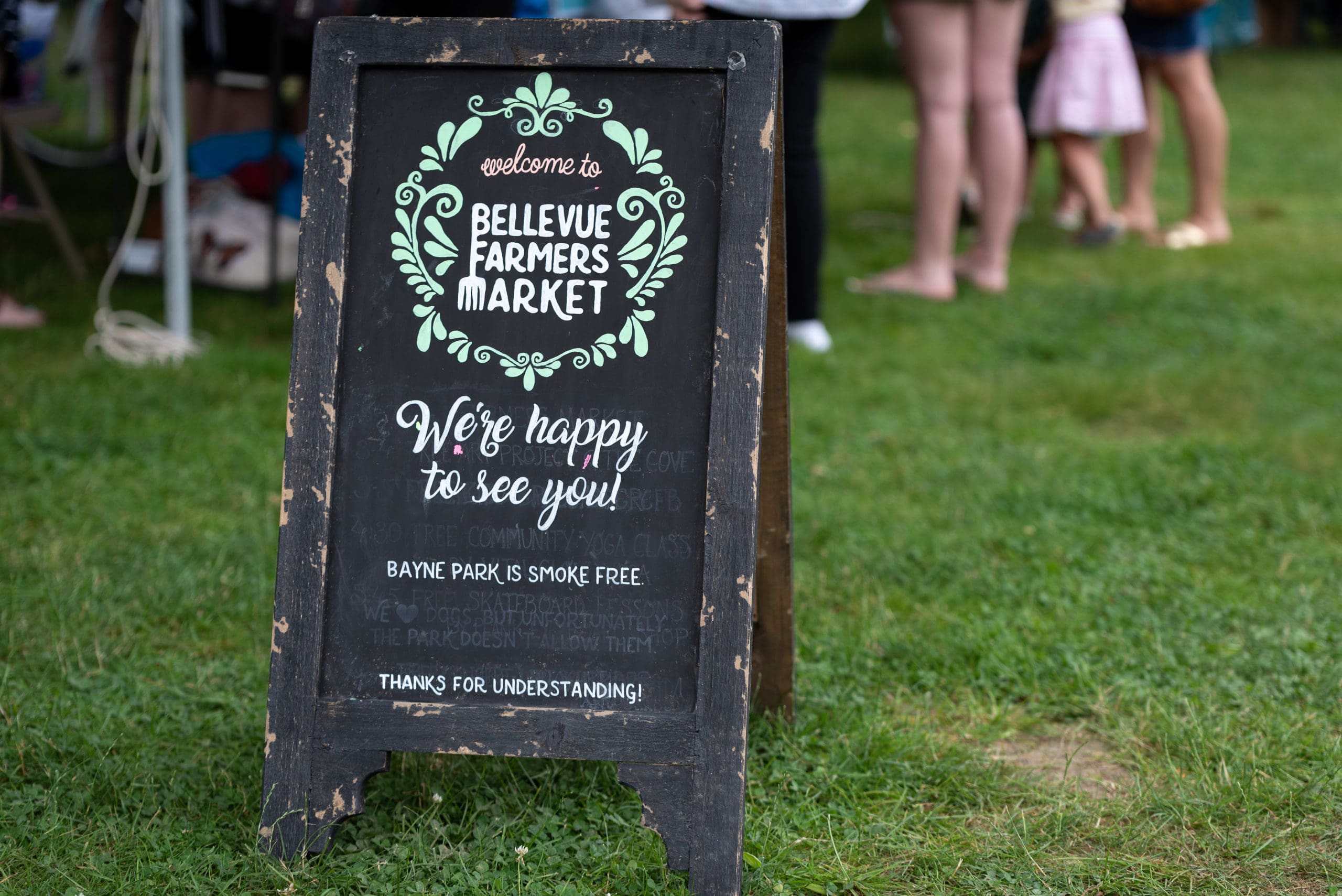 The Bellevue Farmers Market started in 2017 under the direction of a group of residents.  They realized a charming, walkable community like Bellevue, PA deserved to have a market that was as exciting and dynamic as the town itself.  The goal of the market is to create a central point for the community that is accessible to all.
Visiting the Market in 2022
LOCATION: We are returning to Bayne Park for the duration of the 2022 season!
HOURS: The Bellevue Farmers Market is each Wednesday from June 1st through October 26th from 3pm to 7pm.

No tobacco products are allowed at the market at any time.

We have multiple vendors that can accept SNAP/EBT – stop by the market booth for more details!
We offer a 1 for 1 Food Assistance Match. If you participate in a state or federal food assistance program, you the FAM will cover 50% of your qualifying food purchases. Click here for details, or stop by our Market Booth and speak with a volunteer to learn more! 
We are excited to release the map for our market's opening weeks. Please not some vendors are not available every week.
---
Amazing sauces and seasonings curated to your taste buds!
---
Live entertainment at the market sponsored by 565 Live Speakeasy & Stage
---
Artisanal ciders, meads and fruit wines
June 8; July 13; August 17; September 14; October 12
---
Pies, Cinnamon Rolls, Bread- Olive Oil and Sea Salt, Garlic Parmesan, Kalamata, Lavender Almond
August-October
---
Rare, premium, healthful meat and eggs from old fashioned cattle, hogs, and chickens; heirloom beans
---
Game and activity lending library
---
Classic cakes, pies, biscotti, scones, cookies, muffins, sweetbreads, and more
---
Artisanal soy candles and natural skin-care products
June 29; July 27; August 31; September 28; October 26
---
Cheeses and Honey
Alternating Weeks – June 1, 15, 29; July 13, 27; August 10, 24; September 7, 21; October 5, 19
---
Soaps, toothpaste, lotions, chapstick, and hand sanitizers
June-August
---
Four Paw Barkery/K-9 Pet Treats
Dog Treats
---
Mushrooms and Mushroom growing kits
---
Indoor tropical plants
---
Family-run small farm – providing fresh vegetables, fruit, and herbs
---
Fresh, healthy, and flavorful hummus and grab-n-go salads made with grains and greens
Dates TBD
---
Hand-made fruit wine
---
Honey and other honey related items
---
Natural handmade soaps
---
Organic & FairTrade coffees & organic tea, matcha, & herbal infusions
---
100% Naturally Farm-Grown and Plant-Derived Specialty Spices
---
Spirits: Bourbon, Rye, Gin, Limoncello, Vodka
June 15; July 13; August 17; Septeber 21; October 5
---
Machacha Foods
Cilantro and Macha based salsa
---
Community services for seniors, people with low incomes, and the unemployed
---
Small-Batch, artisanal olive oils and balsamic vinegars
---
Craft cocktails (bottles 750) vodka and rum
June 1; July 20; August 3; September 7; October 12
---
Pink Salt Sweets
Cookies, cakes, bars, brownies, scones, muffins, cupcakes, mini tarts, and specialty syrups
---
Mediterranean Bakery featuring prepared gyros, falafel, and fresh-squeezed lemonade
---
Greens, fresh herbs, produce, and fresh-cut flowers
---
Locally and naturally grown flowers
June – September
---
Apples, peaches, plums, Asian pears, cherries, and cider
---
BBQ, soul food, desserts
---
Very Merry Greens
Organic Microgreens and peppers
Alternating Weeks – June 8, 22; July 6, 21; August 3, 17, 31; September 14, 28; October 12, 26
---
Distilled spirits and ciders
June 8; July 27; August 10; September 7; October 5
---
Vendor & Volunteer Spotlight
Today we speak with Hughes Farm and Apiary, home of the Knee High Beekeepers, who have been sharing their honey at the market for the last several years.
Today we take a closer look at Very Merry Greens!
Our first volunteer spotlight of the 2022 season is on our Market Manager – Bryan Davidson.
Today's volunteer spotlight is on Sister Ily Olsen, of the Church of Jesus Christ of Latter Day Saints.
Are you interested in being a vendor at the Bellevue Farmers Market for the 2021 season? Please fill out the form below
While the market earns revenue through selling spaces at the market, earned revenue makes up less than 20% of our overall budget. Through generous contributions from our community, we are able to create a high-quality, professional experience for vendors and the community alike while supporting those who access food assistance programs. 
Your support of the Bellevue Farmers Market reaches beyond the weekly market. In addition to promoting healthy lifestyles through better food choices, your contribution supports local farmers and entrepreneurs, keeping them in business and creating more jobs in our communities.