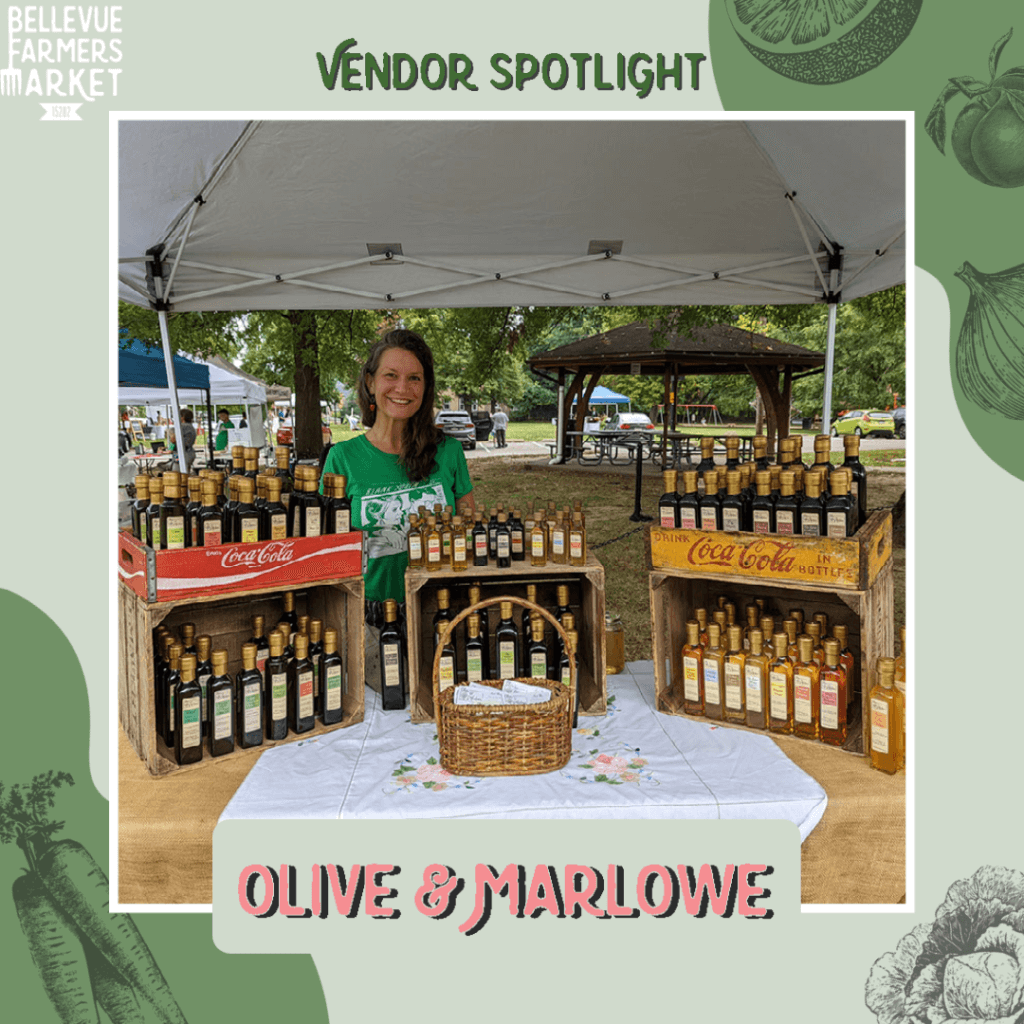 Today we are speaking with Heather Cramer from Olive and Marlowe.
I started selling olive oil and vinegar in the old Pittsburgh Public Market in the Strip District in September of 2010. A year later, I purchased the business from my employer, opened a storefront in East Liberty in 2013, operated that for five years, and shifted to online in 2018. While I no longer have a physical storefront, I do my bottling in Morningside but live and process orders in Allison Park. I also sell at farmers' markets around the city, have products at other local retailers, and offer free local delivery to customers in Pittsburgh and many surrounding suburbs (including Bellevue).
We offer a wide array of olive oils, both single varietal extra virgin and cold-fused (the method of favoring is simple: the herbs, garlic, and citrus are crushed in with the olives at the time of milling) varieties, as well as different kinds of vinegar, and herb mix packets.
I don't make any of the products myself since olive oil, by nature, can't be produced in PA, but I work with small producers in California, sourcing olive oil directly from them. My favorite olive oil – and this is like choosing a favorite child – might be the Coratina. It's green, grassy, and delightful drizzled on toast with a little salt. The flavor is so lovely. If I want a flavored oil, I almost always go for the Persian lime, which is especially good in the summer months. It adds just the right notes to salsas, tacos, corn, salads, marinades, and baked goods. I can't get enough.
I've been attending the Bellevue Farmers Market since the beginning! This year is our fourth season, and WE LOVE BELLEVUE. Aside from my market staff, I work alone – bottling all products, labeling, packing orders, and managing my website. I have an amazing team representing me at markets (though I occasionally work at a few markets). This year Cassi, who's in her 6th season working markets for me, will be at Bellevue, and she's loving the location, customers, and market staff and volunteers already. She's taking over for Molly (who ran Bellevue for the first three seasons), who moved to Florida last month.
The sense of community in Bellevue is incomparable. The customers' desire to support small businesses is amazing, and their appreciation of a market in their neighborhood is so evident each and every week. We love being a part of that.
A fun fact about me is that before having my first of three children and moving to Pittsburgh, I worked as an art and music teacher at a K-8 school on a reservation in eastern Maine, across the bay from New Brunswick, Canada.
You can purchase from Olive and Marlowe online at https://www.oliveandmarlowe.com. Gift cards are also available online.